The focus here at Paradise Cove is Food, Food, Food. The restaurant encompasses Pacific Island fare. We believe in utilizing all that the land has to offer, and do so by using local ingredients, bought directly from the local farmers, we then add mainland produce to present healthy, fresh meals served by our wonderful restaurant staff. Our talented team in the kitchen will showcase some of the best meals found on the islands. The resort grows much of its own fruits, with pawpaw, pineapple, bananas, mango, passionfruit, along with an extensive array of herbs and vegetables.
The meal plans are separate to your accommodation costs and are set as a 24-hour rate to include breakfast, lunch, and dinner. We cater for vegetarians and can accommodate all types of food allergies and gluten intolerances.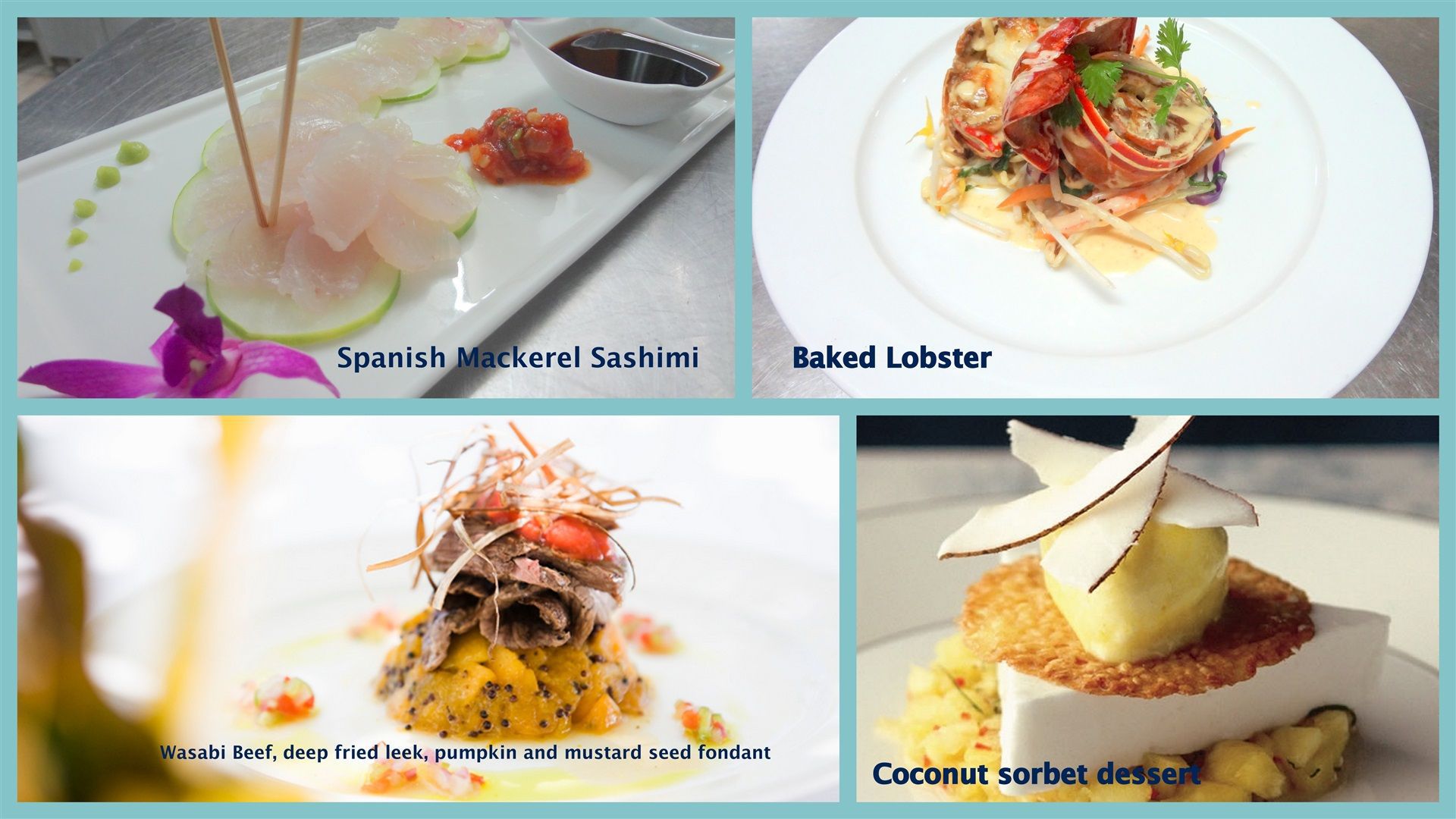 Breakfast begins from 7.00am until 10 am with a la carte breakfast menu as well as a continental breakfast, comprising of fresh fruit, a variety of juices, a selection of cereals, fresh bakery items such as croissants, pain au chocolat, muffins and danishes, coffee and a variety of teas. Our a la carte breakfast menu includes items such as omelets, pancakes, french toast, hearty full breakfast of bacon, sausage, eggs how you like them, eggs benedict, smoked salmon hash, and many more delicious choices.
A sample of the meals we serve a la carte style for lunch are below – along with vegetarian and gluten-free options, we make sure that there are yummy choices for everyone.
Island homemade beef/chicken/fish burger and Casava fries

Fresh Walu (local fish) salad with paw paw relish

Caesar salad

Traditional mint battered fish and chips

Coriander and chilli Calamari Linguine

Summer Thai Chicken Wrap

Chicken, beef, prawn stir fry

Fish tacos

Fruit platter

wood fire pizza

Daily Fijian specialties
You won't get bored when it comes to dinner each evening, our multi-choice a la carte dinner menu changes every two days.
Dinner is five courses starting with an amuse bouche, then entree (appetizer), sorbet, main course and then ending with dessert, along with freshly baked bread rolls.
We currently offer on each menu, 3 entree choices, 5 main choices, and 2 dessert choices, the menu changing every two days. We also have additional vegetarian options and cater for all types of allergies, and gluten-free guests.
With our open plan restaurant, shared dining or private tables just for you, our band boys playing island tunes, and our friendly staff taking care of your every need, you will enjoy something different each night, along with the opportunity to meet people from all walks of life, and make some new friends.
Rooms
A spacious, fully air-conditioned room. Enjoy the hand crafted local furnishings and the open air shower in the ensuite. Perfect for 2 Adults and 2 ch...
View Details